This is basically the randomist (yes I said randomist) post ever! I wanted to know if any of you had suggestions for Starbucks coffee! I'm a HUGE fan! I am not a fan of the prices since they are a bit high $$ but I really don't mind spending the money for a good cup of coffee or a well made drink! :) I'm not gonna lie, I've ALWAYS been a Dunkin' Donuts kinda gal, but lately I have been really into Starbucks. I feel like it's a little classier and they don't mess up my order haha! Dunkin' Donuts is where I get my regular daily iced coffee and Starbucks is usually me treating myself to a special drink! I usually go to Starbucks with my best friend. I feel like a cup of coffee is best enjoyed with a friend :) This post is just to ask for some suggestions on drinks to try at Starbucks.. Kinda random I know! :)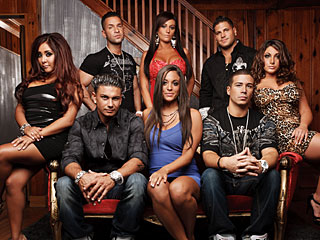 I don't want to just make this post about coffee because that seems super boring! Let's see.. Whats been going on in my life. Well today is Thursday August 4th and I am looking forward to watching the Jersey Shore Italy premiere tonight! So yeah I'll admit it, I'm a huge Jshore fan. I've been watching Since the first episode of season 1! Any fans out there? It's such a crazy show and a lot of what happens is pointless but it is so addicting and I just love it! I'm definitely a reality tv. junkie! :P haha! I'll be popping some popcorn and curling up with a blanket tonight and possibly inviting some friends over to watch the premiere! I cannot wait..I've been kind sorta counting down the days! It's bad.. Other than that my week is sort of all over the place. All day today I am doing my summer reading and then taking breaks in between! I love to come on here and blog when I take a break, because it seems to calm me down a little :) Friday (tomorrow) I am doing nothing, probably reading again!
Saturday is going to be fun. My Mom is taking me and my two closest friends out to eat somewhere and shopping for the day for a late birthday dinner. Like I said, my birthday was on Tuesday, and we were originally going to go somewhere big for my birthday, but everything is so expensive now that we decided to wait until maybe a vacation during the school year! I'm so excited to spend some time with my friends and just enjoy life. Every single day I realize how much friends mean to me and I want to spend as much time with them as possible before I start to get older and more serious about my life and career. There is so much time to have fun and just be a teen before you have to really settle down and be serious about life. I love to be able to spend the time with friends that I'm lucky to have and I am so thankful!
So I've ALWAYS been obsessed with Taylor Swift, but lately I have been more obsessed than ever. Not to sound like a creep ahah! She just speaks to me and I'm sure Millions of other girls going through heartbreak, crushes, school, and just life in general. She is the only singer/songwriter that has lyrics that I feel like so many people can truly relate to and that is such an amazing quality in a singer. She is such a beautiful role model. Taylor is so graceful and she presents herself very well. I think she is absolutely gorgeous and so grateful for her fans and that makes me so happy when singers or any famous person out there is loyal to the fans that were part of the reason they got to where they are. I had her "Speak Now" CD and few songs from her older albums, but I usually just listen to the older albums by searching songs on YouTube, but for my birthday my parents got me, "Fearless" and "Taylor Swift" her first album. I love the songs "You're not sorry", "Superstar", "Sparks Fly", "Breathe", "Hey Stephen", "White Horse", "Long Live" "Innocent" And "teardrops on my guitar" I love EVERY one of her songs, but those are my favorite!
Thank you all so much for reading this post! I love each of you very much who even takes the time to read anything I have written. It means the world. Check out my YouTube if you'd like
http://www.youtube.com/giftofglamour8
Again, Thank you.
Dear whoever is reading this, you're beautiful and someone out there is crazy about you. So smile. Life is too short to be unhappy. When you feel like there is no one who loves you, just remember, I love you.
~giftofglamour8